The following work was done on 7/15/12 by Chuck Trabert, Buzz Morrisette and Warren Newhauser: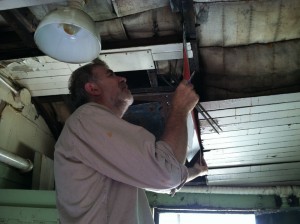 Pictures are here: https://www.dropbox.com/sh/bz68n0yccgjqprl/eaxHuYVMBG?m

Warren
Troubleshooting Waukesha control panel as to why the 3 minute pulses to the auto-starting wheel are not working
Tested the 5 sec N.C. time delay relay working ok.
Found the 3 minute N.O. quick make/slow break time delay relay not functioning. Seems it is only working very intermittently. The relay is sealed and there are no serviceable parts on the relay contacts.
Cleaned reverse current holdout relay contacts. I have suspected these are dirty and causing improper operation where Enginator would constantly cycle on/off.
Sprayed upper sides of car with Captain Lee's Metal prep solution to stop the rust and put temp zinc phosphate coating to stop rust.
Chuck
Sealed A/C duct seem on rear of car roof with Vulkem caulk.
Researched putting in roof drain. After a few hours determined there is a structural piece running at the exact offset from the centerline where the pipe flange would mount inside.
Agreed Chuck would run a 3/8″ pipe through the structural angle iron on the ceiling to get to the roof.
Buzz
Measured profile for curved carline boards that the tounge & groove ceiling gets nailed to. Has access to free wood.
Chuck/Warren
Lowered coolant level from totally full to about 1 1/2″ below top. Coolant no longer overflows when run in hot weather after running. Ambient temp ~95 degrees.
Measured operating temp at cylinder head at 177 deg. with infrared temp gun to verify engine was not overheating. Thank you for the great advice John Grube!!
Changed oil to Mobil One 10w-30. Oil had not been changed in probably 30 years!! This could be perhaps the last oil change it will need.
Oil filter purchased last Fall was incorrect. Filter dims are 5″ tall by 4″ diam. (Napa 801 or 1108)
Adjusted fuel pressure down from 6 oz to 3 oz.
Tightened fan belt
Installed grease fitting on fan pulley bearing and greased pulley
Turned water pump grease cap 1/2 turn
Blew out radiator and generator brushes/commutator with compressed air. Moderate amount of dirt present
Blew out dirt/dust from underneath car
Chuck was unable to adjust oil pressure down from 40 psi. Chuck was not able to get adjusting screw beneath the carb to move
Removed cover from oil pressure sending unit. Was able to test it was at 0 ohms with no pressure (correct). Need to test with engine running to make sure it opens the circuit up.
Removed cover from temp sending unit. This we know does not work from applying heat and seeing the contacts do not close. We do not have an exact replacement unit so we may have attempt fixing or use a slightly different unit.
Pumped about 14 gallons of water into the kitchen water tanks. Had to shut off the valves to the water heater, the large kitchen tanks and sub-cooler. We can now wash our hands and the end of of a long sweaty day!!
Items Remaining on Enginator:
purchase new Napa 801/1108 cartridge oil filter
lubricate magneto cam
finish testing oil pressure sending unit when running
finish temp sending unit and test
check generator bearing and lube if nec.
check engine valve adjustments
clean carb throat
clean oil bath air cleaner
replace spark plugs
WE NEED VOLUNTEERS!!! If you would like to explore helping with the restoration of the Milwaukee Road Dyanamometer car please contact wanewhauser2004@yahoo.com.